PJ and Ena Souhan bought Royal Auto Services in 1969 and changed the name to Souhan's Garage, where
Ena had been working for several years. PJ and Ena joined the Chevron Texaco Group. With Ena managing the office and all accounts she was first joined by Nicky their daughter, then followed by Darren and John Souhan all of whon now play key roles in the business.
Then PJ and Ena built a larger garage at the filling station. The garage became a well known vehicle repair centre. PJ began his steel fabrication and engineering works. PJ, who worked alongside his father who was a well known blacksmith in Rathcore Co. Meath then trained as a mechanic, panel beater and steel fabricator. He began to specialise in trailers, oil tankers, cattle crushes, horse boxes, catwalks, steel stairs, railings, repairing farm and plant machinery. PJ and his team of employees also worked on Newgrange and Ardboyne Hotel in Navan, Old Darnely Hotel in Athboy, The Royal Dublin Hotel, Roadstone Ireland, Moyglare Stud, Kilsaran Concrete and FloGas to name but a few.

We built a larger Workshop on the premises in the 80's extending the engineering part of the business up until the 1990's when cars became more sophisticated and repairs required computer diagnostics. With the governments launch of The N.C.T. Souhan's started to focus the business more and more on vehicle mechanics and preparation. After all the requirements were announced for The National Car Test Souhan's then began to kit out their new workshop. Equipping the garage with all the newest technology's available, including computerised test lane, emissions tester, laser aided wheel and light alignment, Bosch Computerised Vehicle Diagnostics among many others.

One of the largest parts of Souhan's Garage is their Exhaust Manufacturing Capabilities with many people coming from all over Ireland to avail of the unique expertise which comes from a long family history in Steel Fabrication joined now with Darren and the latest possible in technology and machinery.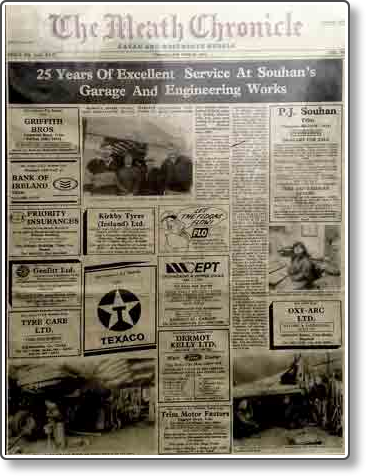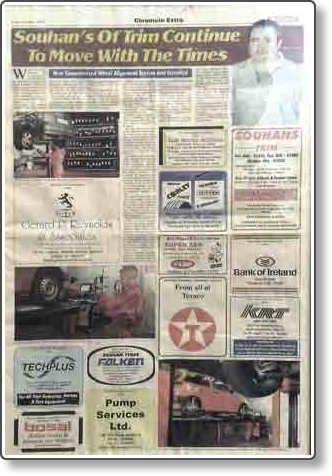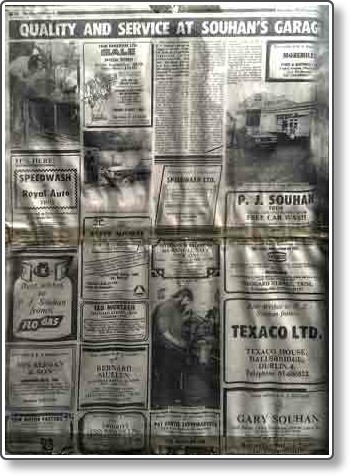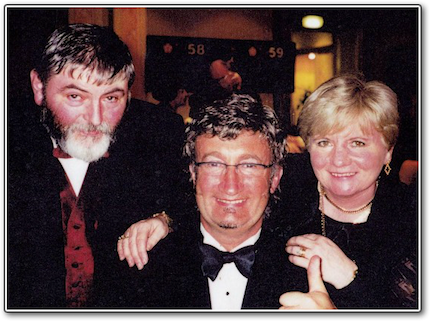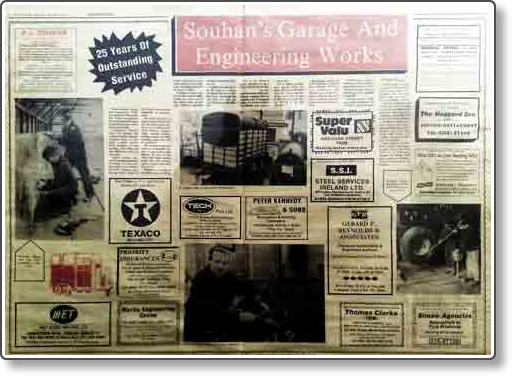 March 2012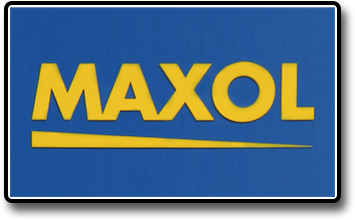 Souhan's new forecourt signage to be revealed soon after having teamed with Maxol to help bring the highest standard of customer satisfaction. Maxol is proud of the fact that today it has a service station and/or distributor in every county in Ireland and indirectly employs an estimated 1,200 people. Maxol is Ireland's oldest and foremost independent oil company is entirely Irish owned, and is one of the largest and oldest family owned concerns in the country. The Souhan family would like to thank all their loyal and longstanding customers and wish to assure them that even though their brand is changing they will endeavor to continue to serve the public to the best of their ability and guarantee that this will not change.
June 2012